This article was written in collaboration with Triorep
When you build a THOW (Tiny House On Wheels), you need a reliable trailer that will act as the foundation of your house. A trailer specially designed for this purpose is preferable, because it makes it easier to attach the house and the trailer is lower, which means more height for your house.
In the early days of the Tiny House movement there was little choice in specialized Tiny House frames, but since recently you can go to Triorep in the Gelderse Scherpenzeel. They offer a Tiny House trailer with a number of distinctive qualities about which we would like to inform you.
From caravan sales to undercarriage specialist
Triorep is a true family company: father Oostveen started the company 38 years ago, son Bart took over the management from him in recent years and mother Oostveen does the bookkeeping. It was originally a caravan company with a shop, until father Oostveen came into contact with a German company that specialized in parts for caravans. He was given a load of parts with a value of 8000 German Mark with the condition that he would pay them back if he could sell them. That worked out well, and soon the rumor started going around that if you needed caravan parts, Triorep was the go-to company.
Triorep stopped selling caravans and focused entirely on the sale of parts and the maintenance of caravans and motorhomes. A wealth of experience and expertise was built up in the years that followed, especially when it comes to undercarriages. It started out with just a few dealers but the company now serves the whole of the Netherlands. The saying goes, 'Have a problem with a caravan? Just go to Triorep, they know how to solve it and have the parts or can get them fast."
Service, maintenance, advice
A large part of the work consists of the maintenance of caravans and motorhomes, in addition there is the sale of undercarriages. A big advantage is that the Triorep team knows the ins and outs of all the different trailer. They are often assembled in the workshop, the parts are in stock or can easily be ordered and maintenance can be carried out on site. In addition to the workshop where they repair and maintain caravans from all years, there is a large and well-organized warehouse with a huge number of parts.
Triorep is essentially different from other companies where you can buy an undercarriage. When you knock on Triorep's door, you can expect questions: 'What exactly are you going to use the trailer for? How heavy do you want to load it?" And so on. They like to deliver quality and that includes good advice. Safety on the road and a good user experience, that's what it's all about. Is there a problem, did you drive damage? Then you can come back to Triorep, knowing that they have the materials, machines, and expertise needed to solve the problem. And that is a comforting thought.
The Tiny House trailer
Bart Oostveen is now at the helm of Triorep. He started his career in technology with an apprenticeship at the German company Westfalia, where he learned to work with impressive machinery that you now encounter in the large workshop in Scherpenzeel. He calls the Tiny House trailer 'his baby'. Bart could easily live in a Tiny House himself: "As long as it has a very large shed." he says with a laugh. After all, there must be space to build things!
The Tiny House trailer that Triorep has in its range is a trailer of the Al-Ko brand. An essential difference with other Tiny House trailers is that the Al-Ko trailer is completely bolted together, where other trailers are welded. The big advantage is that when the trailer is damaged, parts can be replaced. With a welded trailer, there is a good chance that the entire trailer will be a total loss in the event of damage. Triorep has parts (or can easily get them) and can carry out such maintenance in its own workshop. In addition, the delivery times of the trailer are very acceptable: currently the average is 10 weeks, whereas with competitors it has now risen to sometimes a year.
2 or 3 axles, high or low loader
If you want to order a Tiny House trailer from Triorep, you have a number of options. First of all, there is the choice between a high loader and a low loader. Bart explains:
"The high loader is slightly better suited for traveling around, so when you really want to drive around with your Tiny House. The low-loader is more suitable if you only want to move the house from one residential location to another once in a while. You also have a little more height on the low-loader to build the house, within the boundaries of the RDW."
You also have the choice of two or three axles. The advantage of three axles is that you can put a heavier load on the trailer. A Tiny House that has to be transported over the highway can weigh a maximum of 3500 kg, but when it is in place you can in principle load it more heavily. However, the trailer must also be able to handle that. The three-axle vehicle can carry 3 x 1500 kg, the two-axle vehicle 2 x 1800 kg. The weight difference between the own weight of both trailers is only 66 kg. With the extra axle you create a lot more safety margin within the payload.
Another advantage of the Al-Ko Tiny House trailer is the very flat construction, which makes mounting the floor of your Tiny House a lot easier.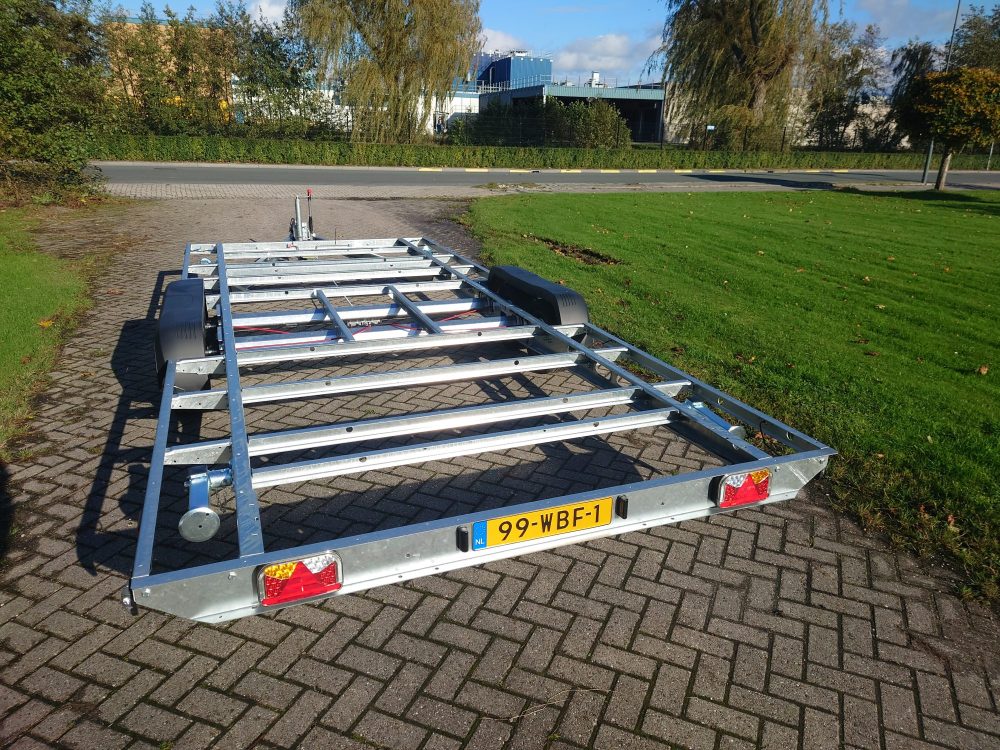 Tip from Triorep: mind the loading of your Tiny House
In the caravan industry they have seen a lot of problems with caravans that are too heavy or incorrectly loaded. Triorep would like to advise on this, which is already possible during the design process of your Tiny House. Feel free to take your design with you to Triorep and let them advise you whether the design as you have it in mind is also optimal in terms of weight distribution on the trailer. It is something that designers often do not give enough thought to, but with which very nasty problems can be prevented. Bart: "You can only do it right once, so it's better to think about it a little longer and get some good advice."
Of course you can also find Triorep on TinyFindy: