Elwy te Grotenhuis feels as if she has won the lottery. Her mother pointed out an announcement in a regional newspaper, which stated that the municipality of Aalten was offering a plot of land for small homes. Elwy decided to take the plunge and go for it. That was in 2018, now she lives happily in her own little house, on her own piece of land in a quiet neighborhood in Haart.  To get there was quite a process, which she is happy to explain to us.
The fact that the municipality specifically offered the land for small homes is quite unique. They were ahead of their time. In conversation with the municipality, it turned out that Elwy had to look for more interested parties, because the municipality did not want to get the process started for just one house. There had to be at least five or six houses on the elongated piece of land at 't Haartse Bos in Haart. Elwy decided to take up this challenge to find her neighbors.
After her appeal in the Facebook group of the Tiny House Netherlands foundation unfortunately yielded insufficient responses, Elwy approached a real estate agent in Dinxperlo. She explained the concept of Tiny Houses and managed to get him excited about the project. Together they then went to the municipality. Because the original plan for the location contained larger homes, a new plan had to be drawn up for the division of the lots.
The broker involved a construction company in the project team and started recruiting potential buyers. Elwy thought it important that people from the region should be given priority. Another advertisement was placed in the local newspaper and no fewer than a hundred candidates applied. Elwy's neighbors were eventually selected by drawing lots.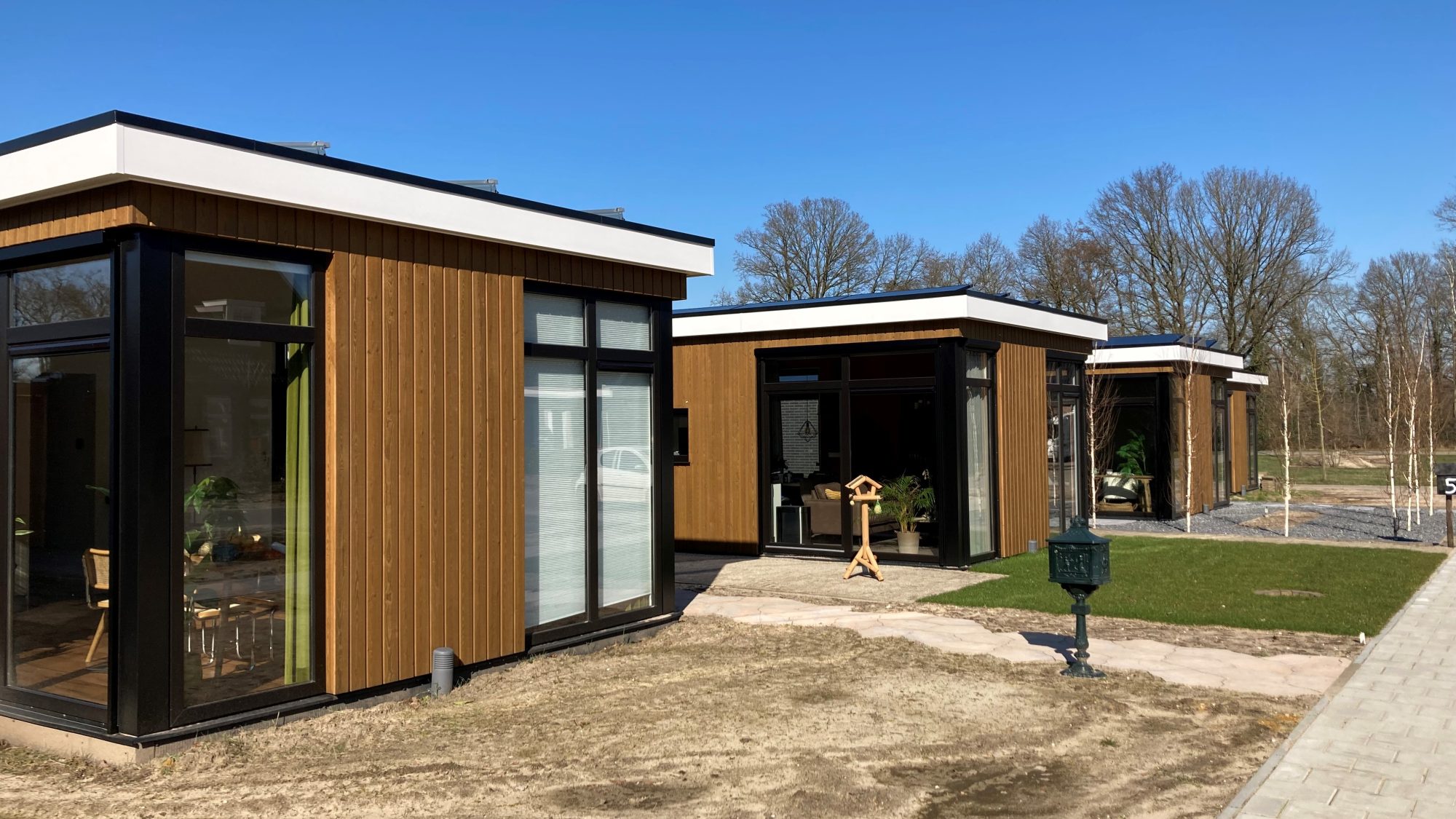 The land and house were pre-financed by the broker in collaboration with the construction company, so the residents bought from them and not from the municipality. The financial construction was quite a puzzle, but with a committed financial advisor and a willing Rabobank it was successful. The entire process, from start to housing, took two and a half years. That's pretty fast for a permanent residential location! According to Elwy, the permit process took a bit long and the connections to the electricity and water network were only completed after the houses were completed.
On July 9, 2021, Elwy moved into her lovely, small house of just over 50 m2. She chose number one, because that lot has the most space around the house. Her neighbors are three couples and a woman living alone, all in their twenties and thirties. It is a quiet neighborhood where every now and then a curious visitor walks past. Opposite the row of houses are two 'Uuthuuskes', also compact homes, but especially for young people who have just moved out of their parental home. The houses in the row of Elwy are not Uuthuuskes, although they are sometimes confused with each other.
Across the street from Elwy are two 'Uuthuuskes', temporary rental homes for young people.
Why did you want to live in a Tiny House, Elwy?
I've found that I don't need much to be happy. You start to think more consciously about what you are going to buy when you live in a small house, it just gives you peace of mind. The more stuff you have, the more unrest you have as well. Where do you put it? A house fills up so quickly. Now I am experiencing that you can also be happy with less stuff. In the end, it's not about those things, you won't find happiness in them.
I lived in a caravan for four months and loved it. What more do you really need? Sometimes I think: is there anything I want to buy? And then I think: does it really make you happy to buy it? The answer is mostly no, so the conclusion is that I don't have to buy anything new.
I live in this beautiful house in a great location, that is what makes me happy. I enjoy the sunrise, the birds. And the peace and quiet here, it is really peaceful.
Do you have any advice for people who would like to live in a Tiny House like you do?
It is best to go to the municipality together with other people who would also like to live this way and submit a plan. It doesn't work very well on your own, you have a much better chance as a group. And try to keep as much influence as possible on the building process.
Everything was new to me and I have more or less arranged this for the others here as well. It's so nice to see how everyone decorates their homes and gardens differently. It was quite a journey but it was all worth it.
Thank you for your hospitality Elwy, it is very clear to see how you are fully enjoying your beautiful little house in your lovely peaceful neighborhood. We hope that you will live there happily for many years to come! And for the municipality of Aalten, our big compliments for facilitating this beautiful project.