DemoParkNL in Oosterwold, the outskirts of Almere, was officially opened on April 22nd  by alderman Maaike Veeningen of Almere. With the planting of the first tree, a new milestone has been reached for Almere, which has long been a national leader in innovative area development and innovative commissioning. In recent years, the young municipality, which is now the 8th largest in the Netherlands, has also paid more and more attention to smaller housing and uniqueopportunities have arisen for Tiny Houses.
The focus on smaller living started in 2016 with an ideas competition by the city council, in which participants were challenged to give their vision of the ideal 'Tiny House', resulting in a Tiny House neighborhood for the prize winners: Bouwexpo Tiny Housing. Tiny House Farm in Oosterwold soon followed (an area development in collaboration with Almere, Zeewolde and the Central Government Real Estate Agency) and recently  Wikihouse de Stripmaker.
And now DemoparkNL is open, an outdoor exhibition with all kinds of different Tiny Houses. 'It is actually logical that you have chosen Almere as the location', said alderman Maaike Veeningen, who warmly congratulated the initiators with the beautiful exhibition.
An outdoor exhibition with a variety of Tiny Houses
DemoParkNL is an initiative of Jorien van Santen, Daan Fröger and Rob Besemer. You will find 12 model homes that you can have built at your own location. From Tiny, on wheels, to max 70 m2 gross floor area. The houses are from different providers and all different.
The park focuses on private builders, small-scale construction groups and the professional market, such as corporations and project developers. You will be fully informed by the providers about the construction options and the costs. The houses are either suitable for permanent residence or can be temporarily placed in a location for a maximum of 15 years, allowing them to be used flexibly.
You can compare the qualities of the various offerings and find out whether compact living suits you, and which home appeals to you the most. But you can also look for a model that can be quickly produced in multiples, for a small project, for example at a temporary location.
Photocredits DemoparkNL
The park is always open
From May there are viewing days every first weekend of the month on Friday, Saturday and Sunday. Except in July, when there is a summer break. Opening hours are from 10 AM to 4 PM. During the viewing days, a representative is present in every home to provide information and explanations about the construction, the options and the prices.
Outside these times, visits are possible on request. You can contact the providers directly for this. The park is not gated and it is always interesting to stop by. You will not be able to enter the homes, but you will get an impression of the execution, appearance and variation of the different models. Each model has an information board with the most important information about the construction. In a number of homes it is even possible to spend the night as a try out.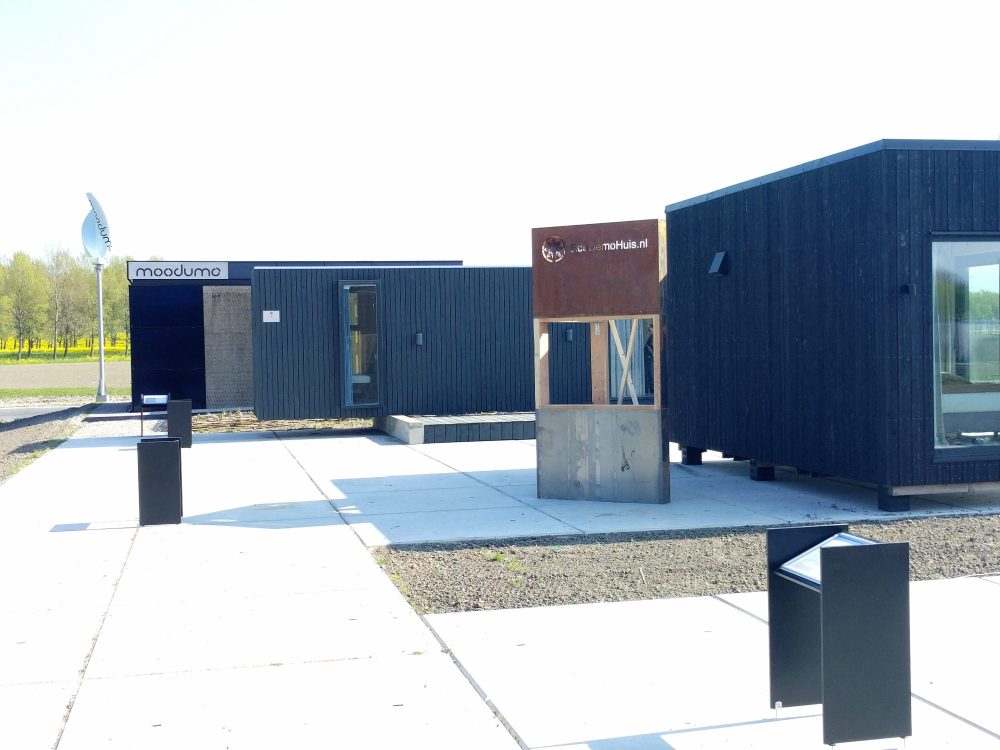 Indoor exhibition: the history of compact living
A visit to the park is also a fun day out. Then take a look at the exhibition in the pavilion, where you will find nice models and stories about the history of compact living in addition to a Tiny info corner about compact living.
Or walk through the tree nursery, which gives the exhibition extra atmosphere and offers you the opportunity to further develop your dream plan for an entire plot including greenery.
Then take a tour through Oosterwold, which has been the largest experimental self-build area in the Netherlands for years and where small living is practiced in many places. Plenty to do, see and experience in and around DemoparkNL if you are a fan of Compact living.
Images by Marcel van Mierlo, unless stated otherwise.