Pip van Etten graduated from Utrecht University in July. For her master's program Cultural Anthropology: Sustainable Citizenship she spent six months researching the Tiny House community and discovered how you can feel at home in nature in combination with small living.
The young anthropologist explains why she likes this subject so much: 'I chose this thesis topic because I have always been fascinated by small living. In addition, in my youth I made many trips in a camper van with my parents and sister, where I experienced a form of small living for the first time and how this automatically brings you closer to nature. So for me it was a unique opportunity to learn more about small living during my Master's thesis by speaking to many enthusiastic Tiny House residents during 10 weeks of field research.'
During her research, Pip has studied the human/nature relationship and how it influences the feeling of 'home'. The main scientific question of the research was: "How is the concept of home influenced by the cultural significance of nature in the Dutch Tiny House community?"
Within anthropology it is common to conduct research by immersing yourself in a community (this is called ethnographic research). Pip explains why: "This allows you to analyze behaviors and interactions up close. I mainly focused on Tiny House life within various Tiny House communities in the Netherlands.'
By conducting interviews, the Tiny House philosophy became clear: 'Many residents choose a Tiny House because they find out that a comfortable life is not necessarily linked to having a large house and lots of things. In fact, in many cases a large house caused unrest and a feeling of guilt about certain consumer behavior, which not only made the resident unhappy, but which is also not sustainable.'
According to Pip, many residents are concerned about the climate crisis and the prevailing mentality of "the bigger, the better." The Tiny House movement rejects this mentality by valuing the 'small', consciously thinking about what you really need and ultimately reducing your ecological footprint extremely. The conversations with Tiny house residents have inspired me enormously and I have learned to appreciate the 'small' because bigger is not always better…'
'The conversations with Tiny house residents have inspired me enormously and I have learned to appreciate the 'small' because bigger is not always better…'
In addition to the philosophy of the Tiny House movement, it also became clear to Pip that nature plays a major role within the movement. 'Many Tiny House communities deal consciously with nature. Residents are aware that we have only one earth with nature and that it must not be overpowered by man, but that we must let it run its course. In many cases, nature has been created in order to then give a piece of healthy nature back to the earth.
During interviews, the appreciation of nature was confirmed several times by the words "nature is everything." In addition to consciously dealing with nature, it is also important to live close to nature. The residents feel more at home when they live close to nature. This feeling of home can be in having a large garden with many plants and flowers, in maintaining a vegetable garden, but also in having a Tiny House in which as many natural elements as possible have been used, such as wood.'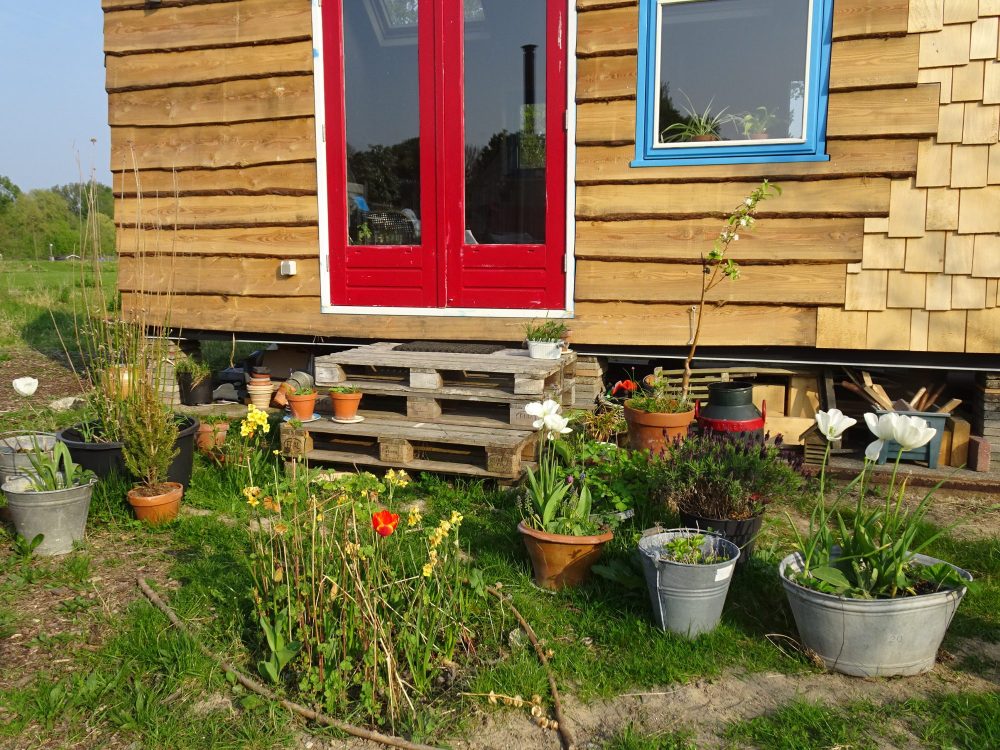 Finally, the concept of 'home' and 'feeling at home' for Tiny House residents has also become clear to Pip. Tiny House residents feel more at home in a Tiny House. This indicates that the concept of 'home' can change with place and time. One of the participants said: "Home is something that is in your head." When talking about home, the reference was not always to a static "house", but rather objects in and around a house to which a particular reference was made or feeling was linked. Within the Tiny House community, 'home' was often linked to nature.
I asked several participants to take pictures of objects or things in and around their Tiny House that made it clear what 'home' is. In the photos you can see that many natural elements can be seen within the imagination of 'home'. Reference was regularly made to the tranquility that nature gave the resident, which stimulated a feeling of home. But it was also indicated how people felt more rooted with nature through gardening or other activities in the garden, which was an important element for residents within the concept of 'home'.
Pip also thought it was important to experience what it is like to live in a Tiny House. "I did this together with a friend and it quickly became clear to me that you do not need much to live comfortably. Everything I was told during the interviews I seemed to understand better now. I also understood better and better how life in a Tiny House is mainly about being outdoors. You are not only triggered to go out faster by the size of the house, but you are also busy with the supply of natural resources. Did you catch enough rainwater to shower with? Is enough sunlight captured in the solar panels? You learn to live with the natural seasons."
Personal thank you from Pip:
My research has inspired me enormously and taught me how to live more consciously. I thought it was beautiful to see how the Tiny House world was constantly looking for a connection with nature and how people lived as consciously as possible with nature. As residents also said "my garden is my home," that has become very clear to me in recent months.
I would like to thank all participants for their warm welcome and pleasant conversations. Also thank you Marjolein for all the valuable information you have shared. For now my Tiny House adventure will stop for a while, but luckily not for long because from February 2023 I will be traveling for six months with my converted camper van. Although this is a completely different way of life compared to a Tiny House, I will still take all the wise life lessons from the past few months. Thanks for that!
If you would like to know more about my research, you can contact me at pipvanetten@hotmail.com'