Great enthusiasm for tiny social housing in Groningen
We already wrote about it in February 2018: the plans of Woonstichting Groninger Huis to offer Tiny Houses in social housing. There are now three different Tiny Houses in a beautiful green, park-like location in Wageningen. Two open house days were held in August. More than 400! interested people from all over the Netherlands went to East Groningen to view the -Tiny Houses. And it does not stop at three Tiny Houses either. Groninger Huis has plans to place and rent out a total of 30 Tiny Houses in its area. Now that's what we call getting down to business!
Groot Bronswijk
The three Tiny Houses in the town of Wagenborgen are located on the site of the former psychiatric hospital Groot Bronswijk. A beautiful green, spacious, park-like landscape with beautiful old trees.
Before a redevelopment can fully start and construction work can finally begin, there is usually a long way to go. However, factory produced Tiny Houses can be placed very quickly. This way a redevelopment can get an early start with the installation of the first houses, such as in Wagenborgen.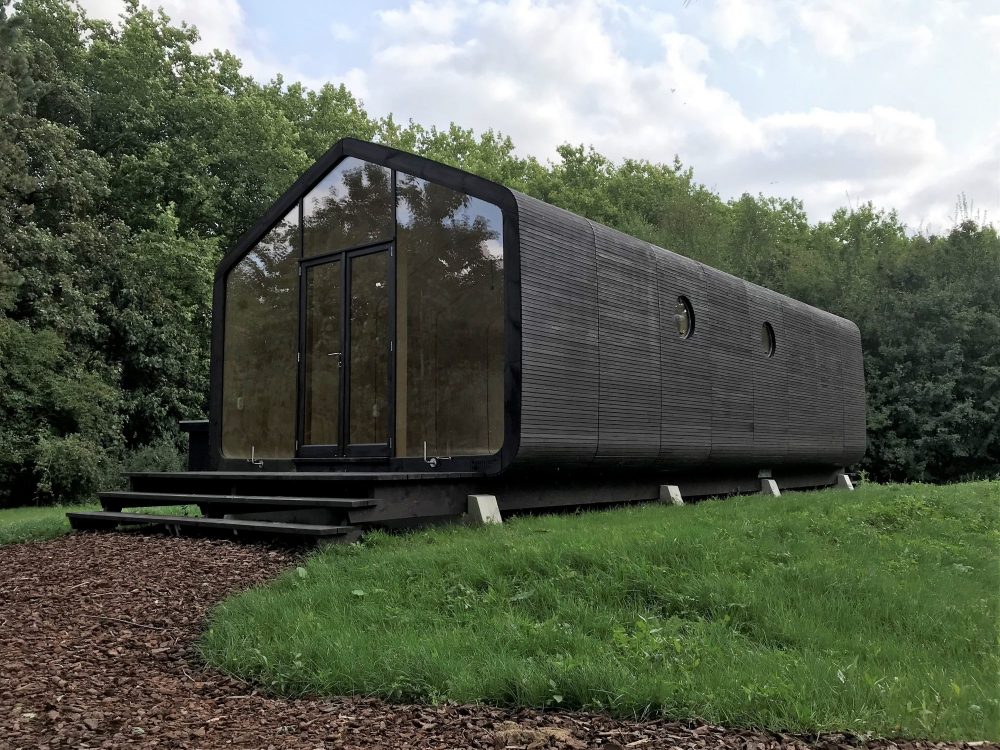 Three models
Groninger Huis has opted for three unique models of Tiny Houses, each with its own character: a Wikkelhouse, a Woody Popp and an Easyhome. When the houses are connected to utilities they will be leased out for social housing. The rental prices vary from € 390 to € 495 per month. For the latter amount you have a Tiny House Woody Popp including a sleeping loft and a dishwasher. Each Tiny House also has its own shed, for storing a bicycle and some garden tools and furniture.
Twenty-six of the Woody Popp homes will be placed later this year. These will be located in Appingedam, Hoogezand and Midwolda.
Great enthusiasm
By adding Tiny Houses to their housing stock Groninger Huis hopes to meet changing housing needs and possibly also attract new residents to the shrinking region, and that already seems to be successful. As soon as the placement of the first three Tiny Houses was announced, the housing association received over 50 e-mails from people who would like to live in such a house. More than 300 pioneers have now registered.
An open house day was organized and filled up so quickly that a second was planned. This also was full in no time. No fewer than 400 people came to Wageningen in August during these open house days. People came from far and wide, even from Valkenburg reported Geja Hagedoorn of the Woonstichting. There is interest from all over the country for this innovative project of the housing corporation, which is currently the only one that will offer so many Tiny Houses in social rent.
Photo: Monique van Orden of Tiny House Netherlands with in the background the Wikkelhouse and the shared storage sheds.
Not for everyone
The registration period for the first three Tiny Houses in Wageningen has passed. For the Tiny Houses in Appingedam, Hoogezand and Midwolda, pioneers can register via www.tinygroningerhuis.nl The houses are allocated with great care; prospective tenants are required to write a letter of motivation about why they want to live in this alternative way. This is because it is a form of housing that does not suit everyone, is the opinion of the Groninger Huis team:
"Living in a Tiny House is a conscious choice. Not because the costs are low, but because the way of living appeals to you. It is a "lifestyle" that values (the preservation of) nature greatly. After all, by consuming less you make less use of precious raw materials. If you live in a Tiny House you are more often outside. For example on your decking terrace or in your own vegetable garden. You experience the seasons more intensely. "
Are you not entirely sure whether the tiny lifestyle suits you? Then you can even do a test on the website www.tinygroningerhuis.nl
What is certain is that Woonstichting Groninger Huis is a frontrunner and an example for other housing corporations in the Netherlands. Affordable, ecologically responsible, detached Tiny Houses in social housing and surrounded by greenery. We hope many will follow.