Andrew Odom and his wife Crystal lived in their self-built Tiny House on wheels from 2011 to early 2014. They sold it to another couple, bought a more traditional RV, and lived mobile with their daughter for two more years. Then they went back to eastern North Carolina, where they come from, and bought a small farmstead. "Our House is 900 square feet and we have several acres of land. It is awesome."
My first contact with Andrew, Tiny House pioneer since 2009, was in 2013. Like no other he is passionate about the developments in the Tiny House movement in America. For TinyFindy he gives an update of the start and recent developments of the Tiny House movement.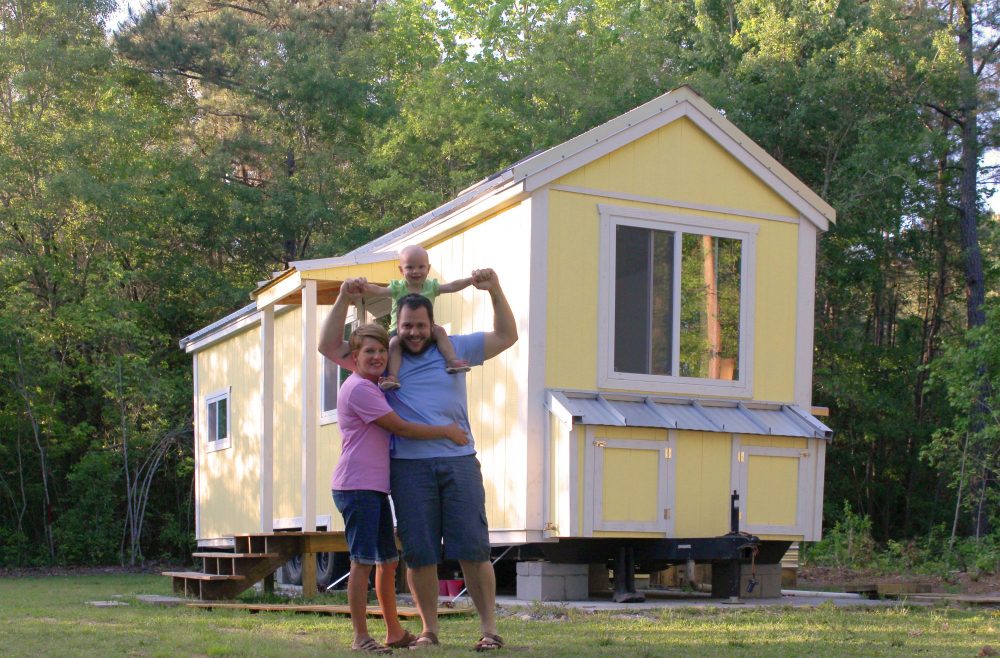 The Odom family in front of their selfbuild Tiny House On Wheels.
Jay Shafer
The modern Tiny House movement began in its current form around 2007 with Jay Shafer and his creation of the Fencl-tiny House on wheels. Andrew says: "Shafer wanted to show what we need in life instead of what we want. The House was only 130 square feet in size and contained a small sleeping loft, a small kitchenette, a shower cubicle, some space for books and a sitting area.
Jay Shafer in front of his Fencl-Tiny House on Wheels
After Jay's appearance on Oprah, the tiny House movement began to grow, but cultural acceptance really started around 2014, when the DIY show Tiny House Nation began its broadcasts. Tiny Houses were seen as a way to live a more affordable and meaningful life. Professional builders began to take an interest in the movement and what was once thought of as a DIY movement quickly became a proven new home scenario."
Organization and DIY
But the current Tiny House movement in America is not really well organized in a legal sense according to Andrew: "Unlike traditional buildings, for example, there are no appropriate building regulations for small Houses. And unlike recreational vehicles, there is no organization like RVIA that can take the lead in setting rules and standards. Over the years, there have been several groups claiming to offer some organization to the movement, but none have reached official authority."
Little do-it-yourself houses are still being built and Andrew expects it to always be that way: "This keeps the movement true to itself. But the number of professional builders is also increasing. They are usually general contractors, attracted to smaller homes or the small house way of life. They bring their skill and experience and translate it into the Tiny House world. The same goes for materials. More and more manufacturers are making products that are attractive or marketed specifically for Tiny Houses. For example, the American company 84 Lumber, supplier of building materials, has even started building their own brand of complete Tiny Houses."
Tiny House villages
At the moment, there are about 25 Tiny House Villages that Andrew is aware of. They consist of a mix of full-time and part-time living: "About 5 years ago efforts to use small Houses as homes for the homeless and veteran housing took shape primarily on the west coast. There was enthusiasm but also a lot of skepticism. Using a type of home that people tried to legitimize and legalize as a home for the homeless and displaced was considered harmful by many. At that time, however, small villages for 6-8 tiny Houses were created. Such a village has the infrastructure of a campsite: there is electricity, water and sewerage."
Here's a good (and recent) reference:
Unfortunately, municipalities have done little to offer Tiny Houses a place in their community. Andrew explains why that is: "Local authorities are only moderately inspired to realize a House of 90 m2 or less and that has everything to do with the municipal tax, which is based on the value of the House."
If you want to know more about the Tiny House market in America, this is an interesting link:
Would you like to know more about Tiny House interior design? The American company Redfin lists ten expert tips for you here:
Tiny House interior design tips by Redfin
The images of the Tiny House in this article are property of Andrew Odom and depict his own Tiny House, except for the image of Jay Shafer.