"Superuse is known for projects in which various waste materials are functionally reused." says Jos de Krieger, architect and partner at Superuse. He proudly shares the agency's philosophy and continues: "Materials, which are locally harvested, determine the identity of a project, but also always fulfill an important function. We believe that striving for smart use of space and materials and seeking unity between form and function fits in seamlessly with the philosophy behind Tiny Houses."
Superuse recently posted a very interesting blog by Pelle Oude Vrielink (previously an intern at the office) about the circularity of wood, which also includes the brand new 'catalog of sustainable wood' (authors: Karola van Rooyen, Pelle Oude Vrielink and Sanne Verhoeve). I have made a summary for TinyFindy, which you can read below. You can find the full blog post here.
Monster collection residual materials – photo credits: Superuse
Superuse loves (sustainable) wood
(Summary of Pelle Oude Vrielink's blog post for Superuse)
A material cycle based on plants is beneficial for the environment, because raw materials are used that can grow. Moreover, due to the growth of forests, CO2 from the air is stored in wood. And if waste is created, nature can break it down and convert it into a new material.
But unlimited extraction of biobased materials from ecologically valuable areas can damage and disturb nature. Various certifications for the protection of nature are therefore of great importance. Ultimately, the reuse of wood offers the only guarantee to prevent unnecessary damage to nature. After all, by reusing wood, unnecessary felling of forests can be prevented and energy can be saved.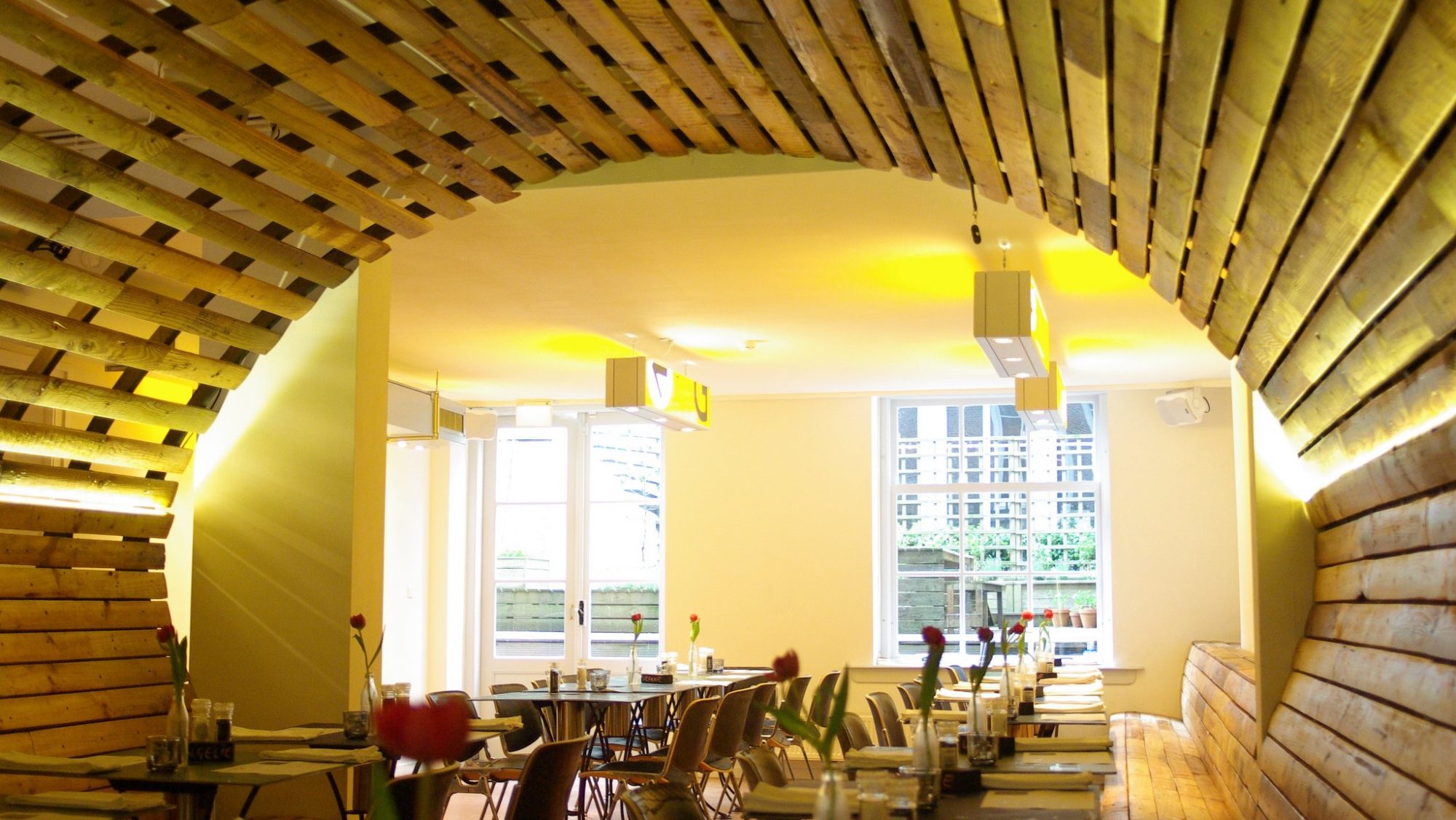 Restaurant Moes, bench made of  cable reel wood – photo credits: Marco Zaccara
Tropical rainforest and primeval forests
The gene pool that is present in tropical primeval forests contains approximately 80% of all animal and plant species on earth. But other primeval forests (non-planted forests) in, for example, North America, Russia and Scandinavia must also be protected. Pelle says: "In all primeval forests there is a great biodiversity, which is affected by felling. Tropical forests are mainly disappearing to make room for plantations, resource extraction and habitats. Temperate primeval forests are mainly felled for wood production. "
Erosion of the forests can be counteracted by timely reforestation and selective logging, cutting down some trees on a lot or "checkerboard" or "strip" logging. The last two methods are more risky for the ecosystem.
In order to be able to distinguish more sustainably managed wood from wood obtained by overexploitation, various quality marks have been created for wood, each with its own criteria. Some common quality marks are FSC, PEFC and Keurhout. Their common goal is: to preserve forests and biodiversity in a fair process for people and nature. In general, wood with a quality mark has a higher price, which is linked to sustainable management. You can find the structure of FSC, PEFC and Keurhout here:
The Forest Stewardship Council (FSC) is perhaps the best-known international organization committed to conservation and responsible forest management worldwide since its founding in 1992. Since its founding in 1992, FSC speaks of responsible forest management when taking into account the environmental, social and economic aspects associated with forest management. To be sure that products with this quality mark actually come from a responsibly managed forest, all links in the supply chain must be certified.
The PEFC certification system has the same goal as the FSC label but is more in line with the ownership structure – especially small private owners – of European forests. The certificates of PEFC and FSC are seen as equals by various governments and the European Commission, although the decision-making with PEFC, certification and the establishment of principles is done in a slightly different way than with the FSC.
Keurhout is an organization that assesses certificates for sustainable wood and forest management, and is therefore not a provider of certificates. Keurhout has two quality marks: Keurhout-Legal and Keurhout-Sustainable. The Keurhout-Sustainable quality mark includes all PEFC and FSC certificates. Keurhout is the only organization in the Netherlands that tests certificates for timber and timber producers. The Keurhout chain, like FSC and PEFC, has been accepted by the Sustainable Wood Purchasing Commission (TPAC). (Centrum Hout, 2010).
'Miele space station, built with washing machines, construction and circuit boards and airplane seats'
photo credits: Allard van der Hoek
Reuse of wood
Reusing wood extends the life of a material, saving existing trees. When reusing, the origin of the wood must also be carefully considered. No wrong chain may be maintained. For example, the purchase of certain material may result in not forcing a company to limit its waste flows.
'KEVN, a pavilion with a café. The trusses, roof beams and frames have been reused.'
photo credits: Frank Hanswijk
Another way in which residual products are created is because a company has production outages. Superuse sees this outage flow as a good alternative for "real" recycled material. Selling these materials does not bring a company much profit, so the company will still try to prevent a lot of production downtime in the future. At the same time, using a leftover batch prevents the wood from ending up in the incinerator.
Re-use can also yield major savings in the field of transport. Tropical hardwood can also be found, for example, as a residual product of the underwood of mooring posts in the port of Rotterdam. And there are other wood-saving options. For example, it is always good to dimension economically, so not to use more wood than is necessary structurally.
In this mini documentary by Viisi Hypotheken you can hear more about Superuse's vision on circularity (in Dutch):