Buying a Tiny House is not that complicated. By now, enough builders and suppliers are available for you to choose from. But find a building plot on which you can place your Tiny House and are allowed to use as a residence? That is a different story. Often there are restrictions on what you can build on such a lot. Not too big, but not too small either. Richard from Roosendaal succeeded. He and his girlfriend bought a building plot in Wouw (NB) and received an environmental permit for their Tiny House. We are happy to share his success story with you and hope this example will be followed by many more.
Richard (27) and his girlfriend currently live in a normal family house that they bought five years ago in Roosendaal. After about two and a half years, the couple came to the conclusion that their house is too big for them. Richard is often abroad for his work, a large part of the house is not being used half of the time. They can do with a house that is little bit smaller, more affordable and preferably also more environmentally friendly. One day, Richard makes a suggestion: instead of searching for an apartment, why not look into the possibilities of a Tiny House? This idea was well received. The couple had only one condition: they wanted to become the owner of the Tiny House as well as the land it was on. So that they would have the freedom to sell the house whenever they want or choose to stay there.
Step 1: Looking for a Tiny House
On the website Marjolein in het klein, Richard discovered information about demo Tiny Houses and a list of suppliers. The search led him to Mill Home and their model 'the Tiny Loft' lived up to their expectations. It was important to Richard that the supplier could guarantee that the design would meet the standards of the Building Decree. This is an important condition for obtaining an environmental permit. There were many construction companies with great concepts, but in most cases these had not actually been realized yet. Mill Home was an exception. They were in the process of placing five Tiny Houses in Hardegarijp and were able to give Richard the guarantee that their design was in accordance with the Building Decree.
Step 2: looking for a lot
"Actually, we were quite lucky," says Richard, when I ask him about the search for his lot. Since 1997, the municipality has been developing a housing project in Wouw, but objections from local residents always threw a spanner in the works. By the time Richard and his girlfriend started looking for a lot, a new proposal was up for approval from the council. This time it had a good chance of getting through. The plan included a fairly non-committal zoning plan for a residential area where people were allowed to build their own homes.
There were some requirements: for the maximum ridge height of the houses, the distance from the plot boundaries and the whole had to retain a village character. But there were minimal requirements to the design, the residents were free to choose the shape of the house and which materials to use and the land pricing was attractive. To nobody's surprise there was a lot of interest in the lots. Richard had been following developments in the media for some time, immediately registered as an interested party and was fortunately drawn in the lottery for the lots.
But before the lot could be bought, it was first necessary to carefully find out whether the municipality of Roosendaal would be sympathetic to the idea of placing a Tiny House on it. Richard had to discuss the plot size and during this first meeting he presented the concept of a Tiny House to the municipality. In doing so, he was supported by a Mill Home licensing specialist. It turned out to be a good move to arrive at the table very well prepared.
The municipality initially responded positively, but there were some concerns about the assessment to the Building Decree in connection with the granting of the environmental permit. However, Mill Home had already done the preliminary work. The specialist was able to explain that by using less restricted rules for private construction and the principle of equivalence in the Building Decree, their Tiny Loft complied with it.
The sale was closed and the Mill Home team took care of applying for the environmental permit. The experience gained in Hardegarijp was invaluable, and the help of an engineering firm was also called in. As a result, the application went fairly smooth and Richard and his girlfriend obtained the permit at the beginning of June 2018. Richard: "The help from Mill Home was very welcome. An environmental permit application involves many technical calculations, I could not have organized all of that myself."
The Tiny House street in Hardegarijp
Pioneering
The entire process, from the early idea of ​​living in a Tiny House to obtaining the environmental permit, ultimately took only two and a half years. That is not an unreasonable term, certainly not because it concerns a new housing concept. In pioneering you will encounter obstacles that have to be overcome. One of these obstacles, according to Richard, was the fact that very little was known about Tiny Houses in the beginning of the proces. He would have liked a guarantee that if he invested money in the purchase of a Tiny House and a lot, he would be able to obtain an environmental permit. There was no guarantee.
It depends on the municipality and the zoning plan whether a permit is granted for the build or placement of a Tiny House. It is up to the buyer to find a plot with a zoning plan that offers space for this. Projects like the residential project area in Wouw where you have the freedom to build as you like are unfortunately scarce. Richard was well informed about the project and therefore did not seek help in finding a suitable plot. He himself obtained information from the municipality about the zoning plan and, in a meeting with the municipality, examined the willingness to permit a Tiny House.
Advice from Richard
"Do your homework well before talking to the municipality, so that you can properly explain what your plans are and to make sure they are not unrealistic. Obtain enough information in advance so that you are well prepared. It is important that the municipality gets a good impression of you as someone they can make agreements with, who has thought carefully about his question and plan and who takes his responsibility. "
"The collaboration with Mill Home worked very well. They guaranteed the organization of the permit for the assessment against the Building Decree, this saved a lot of time."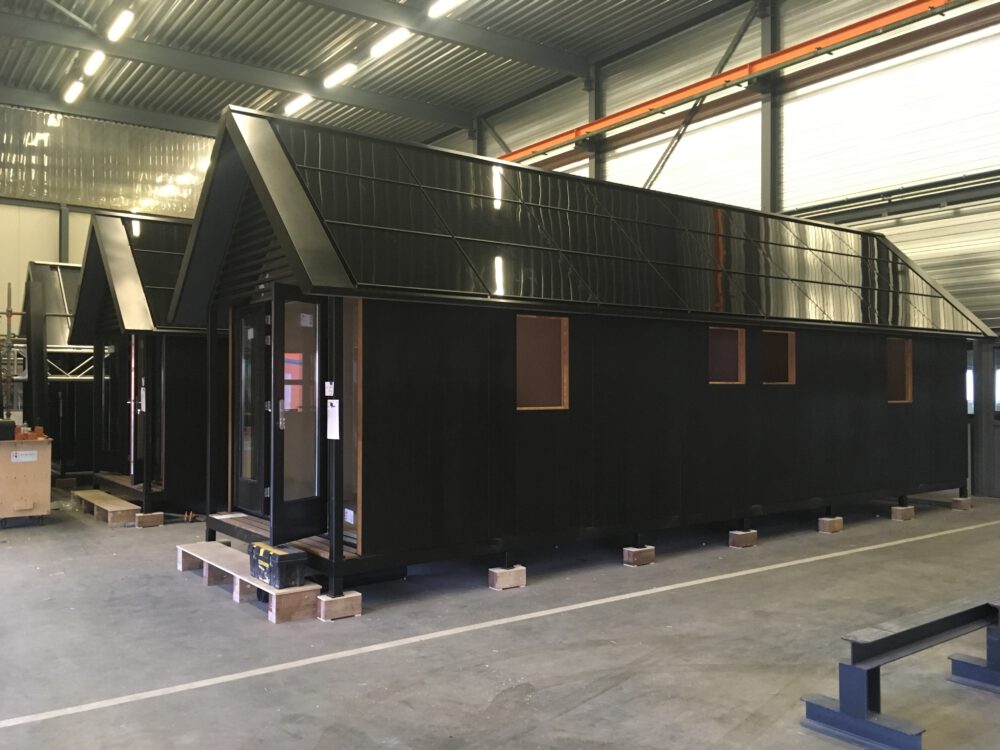 When is de housewarming party?
Richard and his girlfriend recently visited Mill Home to check out the progress of construction. The Tiny House is expected to be ready in 7 weeks. They opted for the Tiny Duo, a model comparable to the Tiny Houses in Hardegarijp, but without a porch. Before the Tiny Duo can be moved to Wouw, some preparatory work must first be done. Concrete slabs are placed for the foundation and Richard tries to organize the connections for the installations in time.
Everything in the project is self-built and the utilities connections are installed up to the border of the plot. As a result, the connections can probably be arranged quite quickly, if not, the Tiny House can still be connected after installation. After that they can finally move in!
It will become a neighborhood with all kinds of different houses that the owners in most cases had designed by architects. There will be brick houses, but also houses made of wood and houses with only a few or several floors. The Tiny House of Richard and his girlfriend is the smallest in the neighborhood.
Finances
Richard is very open about the overall cost. For the Tiny Duo they paid around € 80,000, the plot of 317 m2 costs € 100,000. The land price is relatively low in Wouw compared to the rest of the Netherlands. With all the additional costs such as laying out the garden, Richard estimates a total cost of approximately € 200,000. When I ask Richard if he is aware that there will be people who think that's a lot of money for a Tiny House, I almost hear him shrug on the phone. He explains:
"That two tons is partly due to the amount of land. I do realize that the land here is cheap. A Tiny House needs little land, but most lots are larger and building land is extremely expensive in the Netherlands. At Breda you will probably pay more than double the price, perhaps almost three times as much. For a building plot of 100 m2 you pay a ton. This is an obstacle to finding a suitable and affordable lot for a Tiny House. "
With all the fixed costs, Richard and his girlfriend will be living in their Tiny House with lower monthly bills than in their family house. The new mortgage is 30,000 higher than the old one and will be repaid three years faster. Because the Tiny House is energy neutral and the energy costs therefore disappear, they still have less housing costs per month than in the old situation. For that sum they have a new, energy-neutral detached house on a spacious lot. Financially, that still makes it a smart choice.
Finding a mortgage was no problem at all. A financial advisor sent quotation requests to various financing companies on behalf of Richard. Not one of them considered it a problem that the mortgage application was intended for a Tiny House.
The future
A question will surely arise among many readers: "but what if you want kids?" Richard says: "Ultimately, we do, but not yet. With only one little one who does not need a room of his own, it will work out just fine in this house for a maximum of three years. But by then the house will become too small and we will move. That's why we like that the house and the land are ours, so we can decide for ourselves to sell it when we want. Or to pay off the mortgage and rent out the house, that is also a possibility. We are free to decide how long we want to live in it and we can sell it again without problems. That's a comfortable feeling."
"It takes a while, a process such as this. You should not let yourself be put off by the unknown and good preparation is very important. There has been so much to do and organize to get there, but I am very curious about the end result and I am really looking forward to living in our Tiny House. It's all worth it. We hope to be a bit of an example, showing that it is possible: to buy a lot to build a Tiny House on. "
You are a great example indeed, Richard! We hope your story will inspire people to follow the same path. We also hope that it will encourage municipalities to make room for Tiny Houses in zoning plans and develop affordable small building plots for Tiny Houses. Thank you for sharing your story!