Although a Tiny House is small, it is a real house. Intended for permanent living. And a good house starts with a good foundation. After all, you want your house to stand firm and level and not run the risk of sagging, which could put stress on your construction, cause cracks and pipes to bend… .. or even burst.
Jan-Willem van der Male of Tiny House Academy devotes an entire chapter in his online course to mobility and the different ways of building your foundation. The enthusiastic Tiny House resident and architect is happy to explain the most commonly used solutions.
For Tiny Houses on wheels, there are several options for building a solid foundation under your house. Jan-Willem says: "The best-known are the trailers, which you can transport with a BE driver's license. You can build a Tiny House on these of about 3 x 7 meters, with a maximum weight of 3500 kg and a maximum height of 4 meters from the ground up. You can also build your house on a trailer for mobile homes. In that case you will need a flatbed truck for transport over longer distances. Or you can build a Tiny House on a flatbed trailer, of which there are good examples in the Netherlands. These are towed by agricultural vehicles which have a speed limit of 25 km/h to consider. "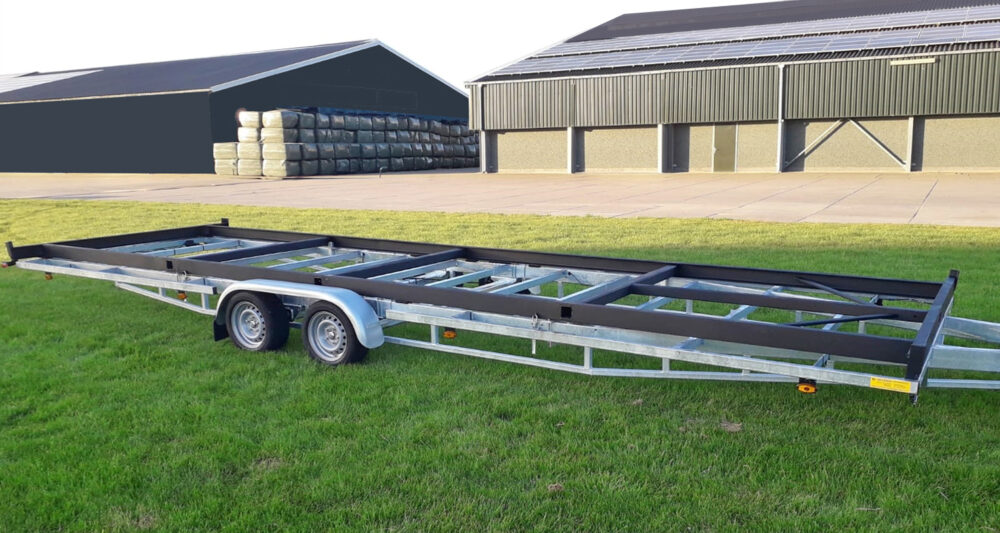 The modular chassis from TinyStee can be used for moving your Tiny House on a trailer up to 3500 kg, but also for loading your Tiny House on a flatbed truck, so that no expensive crane is required for loading and unloading. If you build/attach your house to the frame, you can move it a short distance with a tractor or other slow-traffic vehicle.
If you want to build a Tiny House without wheels, you will need a real foundation. An advantage: it does not have to be a heavy foundation. Jan-Willem: "In many cases, you can work with industrial concrete floor plates. These plates are widely used on business parks. They are concrete paving stones measuring 2 by 2 meters. But they also exist as a product of 2 by 1 meters, and in different thicknesses, depending on the weight with which they will be loaded. Industrial floor slabs are placed on a sand bed. For an average Tiny House, six plates would suffice. "
For a real foundation you can also use a screw foundation. Bob Stokkingreef of Schroeffundering Holland has founded several Tiny Houses this way. The specialist is happy to share his experiences.
"A solid foundation is essential. If the basis is good, further construction can link up with it." Bob continues: "A screw foundation is a good solution for the circular foundation of a Tiny House. What is assembled can also be disassembled. "For a screw foundation, the soil must be free of obstacles, such as debris and roots. A screw foundation can be applied in peat, clay, loam and sandy soil and must be carried out by a specialized company with specially developed mounting machines. Bob: "For example, we use small compact hand machines, a hydraulic tracked vehicle and a hydraulic drill head on the crane."
Screw foundations Holland supplies various types of foundations with diameters from 76 mm to 140 mm and a fixed length of 2 meters, which can be extended to the fixed sand layer up to 20 meters or deeper. An adjustment option can also be mounted on the screw foundation. "This is a custom module, which is different for every Tiny House. The system is fully recyclable and is mounted vibration-free and without inconvenience to the surrounding area." says the foundation specialist with appropriate pride.
Competition: greetings from… part 2
Now that vacationing abroad isn't an option for many of us, you can spend the whole summer enjoying Finny Thow's made-up Europe trip: a wanderlust little house on wheels that explores the world with his friend Bob Spacious. And you can win a free night stay in a Tiny House too! Please note, you do not have to provide the answers just yet. In September we will give you the opportunity to do so via a form in the first blog of September.
If you want to read more about the experiences of Finny and Bob during their previous trip through Europe, you can download the picture book for free here: Finny and Bob discover Europe, to dream away. All correct submissions also have a chance to win one of three printed copies, which we will award as an extra prize.
 Where is Finny this time?
Text and illustrations: Marcel van Mierlo