De kleine burg: an off-grid Tiny House community in Rotterdam
It takes a few years, but then you've got it made. As early as 2016, Tiny House pioneers Jan-Willem van der Male and Noortje Visser started lobbying the municipality of Rotterdam for a pilot project with Tiny Houses. This has finally come to pass in 2021 and the first Tiny Houses have arrived on the Keyenburg in the Zuiderpark in Charlois. They can remain there for ten years, during which the residents have the opportunity to proof the value of this new type of housing.
A contest to win
But before that was possible, the group of residents had to win their spot, competing against other candidate groups. The municipality of Rotterdam has thought carefully about how they wanted to shape this pilot project. They launched a competition where only united groups of residents could enter. The groups had to submit a clear and comprehensive plan in which they had to adhere to a rather large set of rules. They had to demonstrate that they thought about how they would live off-grid, how they would organize themselves and what value they would offer to the wider community.
'Burg: a fortified place of very small size'
De kleine burg
Tiny House community 'De kleine burg' eventually emerged as the winner and was now allowed to implement their plan in ten years' time. The group's project plan is about becoming wiser together in a changing world with significant challenges. Discovering a new way of living together and discovering how things can be improved by experimenting. Fairer, more social, more sustainable, healthier. Consequently to share that wisdom with a wider community, both during and after the project.
From Dordrecht to Rotterdam
The De kleine burg association consists of 11 households in the age of 7 to 60+. So there will also be a total of 11 Tiny Houses on the Keyenburg. The first 2 Tiny Houses were installed quickly, because they were already built and occupied in a temporary Tiny House housing project in Dordrecht. Erik Poldervaart's pioneer family came from Dordrecht, they have built their own Tiny House. Fun fact: Erik is now building Tiny Houses on a professional basis together with two neighbors, the three of whom have united in the company 'De kleine klussers'. The Tiny Houses of Luciënne, Bas & Britt, Tom & Ella, Kevin & Silke and Bea & Frank were also built in the workshop of De Kleine Klussers. But not all houses of De kleine burg are created with the help of De kleine klussers. For example, Ella and Thijs are building their house on location, where they will live in it for the next 10 years.
Ella and Thijs build their Tiny House on location
There has been good and thorough consultation within the group about the position of the Tiny Houses at the location. That was quite a puzzle as you might imagine. One of the residents has made a plan with a proposal for the layout, taking into account the position of the sun and the solar panels on each house, the position of windows and front door, and so on. Ultimately, the plan was adopted to everyone's satisfaction. In the spring of 2022, the group expects all Tiny Houses to be on the site.
Off-grid and together
A requirement of the municipality was that the project would be carried out completely off-grid, i.e. without connections to utilities and sewerage. The group has carefully considered how they can organize this as efficiently as possible and what they can do best collectively or individually. Rainwater collection is done per house in underground water tanks. There will be two large helophyte filters for purifying waste water from all eleven houses. The Tiny Houses are currently still connected to the sewerage system, but the intention is that the group will install its own self-sufficient purification and drainage system within two years.
For the energy supply, the group has opted for individual solar panels, with a joint battery pack. This is called a 'smart grid': the solar panels supply excess power to a battery bank that the group has located in a yellow sea container, from which every house can obtain energy when it is needed. The container is paneled with wood so that it blends in nicely with the green surroundings of the park landscape.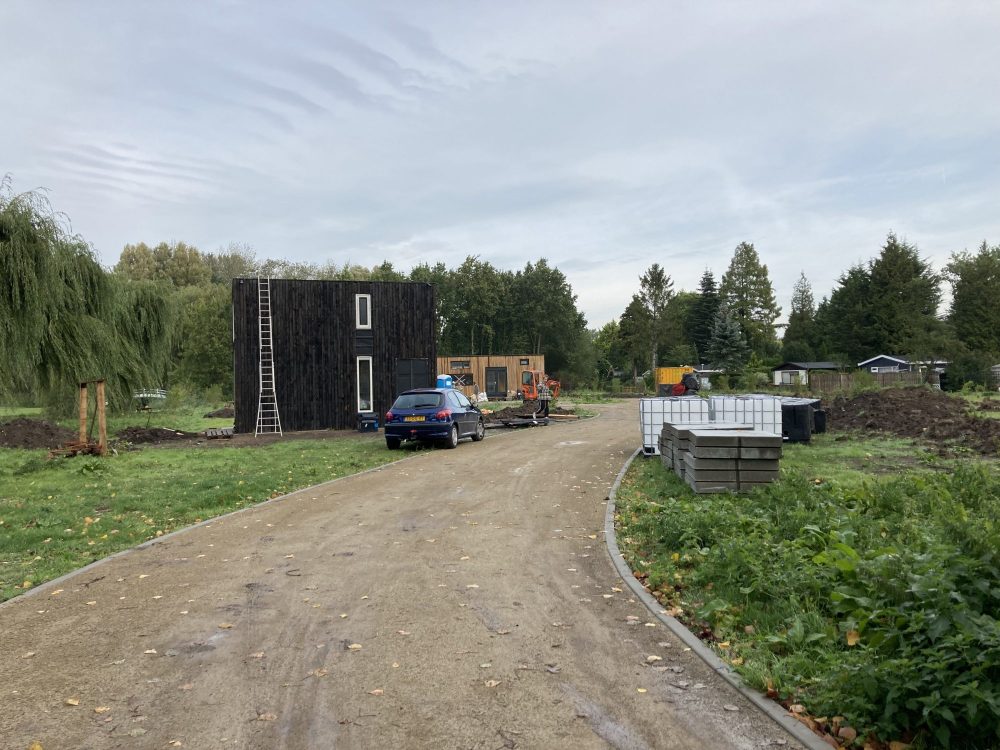 For the first residents it was really a matter of pioneering, they already lived on location while the facilities still had to be built. Among them were Erik and his family. Fortunately, there is good contact with the neighborhood, everyone is enthusiastic about the project. Among them are the users of the adjacent allotment complex who came to the aid of the pioneers in this first period. The residents could go to them to fill their jerry cans with water, while the rainwater tanks had not yet been installed. The facilities have now been arranged and plenty of experience is being gained with the smart grid.
Open house
The group plans to start organizing open house days in the spring. They will publish the dates on their website: www.dekleineburg.nl.
Picture by Erik Poldervaart
We wish the residents of De Kleine burg many years of good living in their awesome project! Thank you for letting us visit you, we look forward to coming back. Have fun and good luck with all off-grid adventures!