Tiny Houses stimulate social connection
'Tussentij' is  a place in the city of Dordrecht where the Municipal Lyceum once stood, located between residential areas and a school. The demolition of the lyceum had made the site a temporary wasteland and thus it became a hangout for groups of teenagers and adolescents. Until the construction of the planned new residential area can begin, "something" had to be done to prevent mischief and disturbances. That something became a temporary Tiny House project with five small houses and a social function for the neighborhood.
Less is more in this family of four
We went to visit Erik and Parel, who live with their two children in their self-built Tiny House on Tussentij. They spent a lot of time collecting building materials before they started construction, because they wanted to build their future home with used materials as much as possible. And they succeeded gloriously. The sliding doors, sheet material, beams and facade wood, all of it is recycled material. Every window in the house comes from a different location and Erik and Parel even made one of them themselves.
Construction started in April and since September 27, 2020 the family from Rotterdam has been living in their Tiny House in Dordrecht. The finishing touches have yet to be made: the siding is not finished yet. But inside the house looks and feels cozy, spacious and perfectly habitable. Building their own house with used materials has given them great satisfaction and provides entertaining anecdotes for many a campfire evening. For example, they exchanged the beautiful pine floor for.. just a bottle of wine.
Erik is treasurer at the Tiny House Nederland foundation and told us all about the background story and the realization of the unique project that his family is now part of.
A creative solution to nuisance
The municipality wanted some form of social management of this location in order to limit the nuisance caused by hanging youngsters. Community Center 'Het Vogelnest' (The bird's nest) located in the neighboring district of Vogelbuurt, came up with suggestions. Originally they wanted to put a houseboat there, but this was a bridge too far for the municipality. A temporary Tiny House neighborhood, however? That idea was well received. The permit was granted until September 2021 and thus the project was allowed to start. This date is related to the start of the construction of a new residential area that is planned at the location. However, construction is already delayed due to the corona crisis, so it could well be that the Tiny Houses and their residents can stay a little longer.
.
Living with less
Five households have settled on Tussentij. Two families with children, two young couples and an elderly woman living alone. The project includes a broader definition of small living. Not only Tiny Houses, but all kinds of small living arrangements are welcome. There is a mobile home that has been refurbished on site and has wooden cladding. The family that lives in this house wanted to try out small living before making a design for their dream home. You will find a chalet-like house, but also three Tiny Houses as one would expect. Incidentally, all three were built by the residents themselves.
Pearl: "living small is not the goal here, more a means to live with less and that is nice. Less stuff, less energy consumption. Movable homes so you can live in beautiful places. Living modestly, using second-hand things, only buying what you need. "
Kleine klussers
Erik and neighbor Maarten Bas have become so enthusiastic about building their own Tiny Houses that they have joined forces and are now also building Tiny Houses with and for others. Their company "De Kleine Klussers" (free translated in 'small handymen") has a workshop in the cultural incubator location DordtYart where three Tiny Houses are currently being built.
Erik and Maarten Bas offer customization: project guidance customized to the customer's needs. Whether that is building the entire Tiny House, building supervision and a place to build or just the place to build and guidance in finding the right (used) building materials. The duo can also support the entire planning of a Tiny House construction project.
You can find the Kleine Klussers under the category services on TinyFindy.
Give a little, take a little
Tussentij was meant to become more than just a tiny living project. The plan stipulated that future residents should make a social contribution to the neighborhood. To achieve this, the Tiny House community tries to build a bridge to the neighborhood by organizing all kinds of activities and to deepen the connection between local residents. They do this in collaboration with het Vogelnest, which has found a suitable site at Tussentij to expand their range of activities.
Each household invests six hours a week on the activities. This is a condition for occupancy at Tussentij. In return, no rent has to be paid for the land and connections for the houses have been arranged. Of course they pay the monthly bill for the electricity and water.
The first activities were organized in April 2020, such as an outdoor cinema and a disco festival. In the summer there was a craft activity for children every Sunday morning. They organized were open days and local residents were invited to come and drink coffee by the "coffee bike". Unfortunately, the organization is now understandably on the back burner due to corona.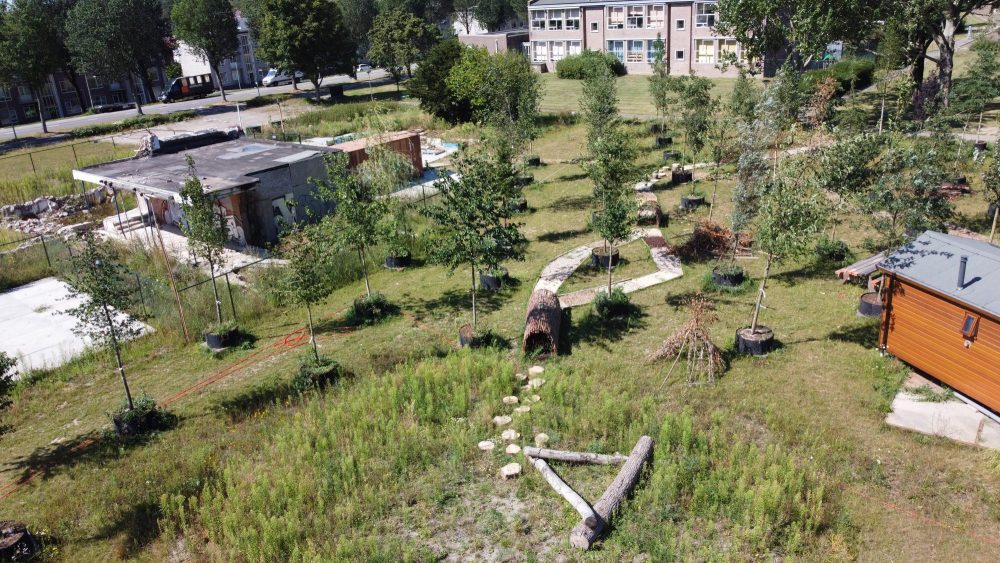 Nature has a place at Tussentij
In addition to social activities for the neighborhood, there is also room for nature activities. In an experiment at TU Delft, seventy-five different tree species were placed in large containers on the site. With this 'climate arboretum', the university is investigating how these trees fare in an urban climate. The residents of Tussentij water the trees as part of their requested time investment in the project and residents from the surrounding area are happy to use the arboretum as their park.
In addition, the Tussentij residents try to create attention for sustainability in the neighborhood by means of the activities they organize, for example by organizing a 'clean-up day'.
More Tiny Houses in Dordrecht
Tussentij is the first Tiny House project in Dordrecht, but certainly not the last. The municipality has gotten the taste of Tiny Houses and now want more. In the Crabbenhof district, land will be made available for eleven Tiny Houses for a period of ten years. The future residents have already been selected. More information about this project can be found here.
Thank you very much for the hospitality Erik and Parel! We wish you and your neighbors a great time living at Tussentij and hope that the permit will be extended so that you can stay a little longer.